I love books by James Mayhew! I heard about them when Red was 3 or 4 and couldn't wait to check them out at the library. At the time, I was really committed to the Charlotte Mason method and one of the things her philosophy advocates is picture study of great works of art. Katie and the Sunflowers, along with Mayhew's other books, incorporates the works of famous artists into the book's plot.
I've been reading Katie and the Sunflowers to Tom Thumb this week and he loves it! He wants to read "the sunflower book" before his nap everyday. I don't mind because I love the story and the illustrations too. In this book, Katie goes to the art museum with her grandmother. She comes upon Vincent Van Gogh's Sunflowers,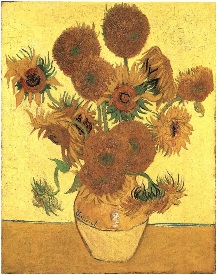 reaches out to touch it, and accidentally topples the vase of flowers out of the picture. She enlists one of the dancing girls from Paul Gauguin's Breton Girls Dancing to help her put things back together.
Things go from bad to worse when the dancing girl's dog runs off into the museum. Fun and mayhem ensue with them stepping into more paintings to recover her dog before putting everything right again. What a great book! While our library has two of Mayhew's other Katie books (Katie Meets the Impressionists and Katie and the Mona Lisa. Red especially liked the one with Mona Lisa!), I've been perusing his other Katie titles on Amazon and like what I see. I think I may have found a Christmas gift or two for Red and Tom Thumb. Yay!